Candice Guardino - Italian Bred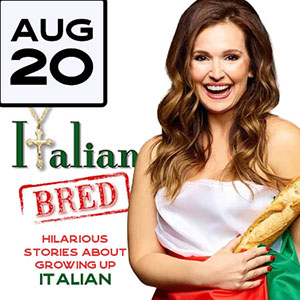 Tickets for Italian Bred can be purchased online or by calling:
The Robinson Grand Ticketing Center at (855)-773-6283.


Tier 1 Ticket - $40.00
Tier 2 Ticket - $30.00
Tier 3 Ticket - $20.00



A fresh and hilariously heartwarming comedy performance about growing up Italian. Created, written by, and starring Candice Guardino.

Based on true life family events as seen through the eyes of a young Candice, this show has attracted celebrities and fans from all over the world.

"You can't make this up."
Having written down everything her loving and outspoken grandmother ever uttered, Candice slips in and out of characters as she cooks up a full meal of growing up Italian in Staten Island, NY.

Italian Bred comes to the Clarksburg after a successful Off-Broadway run and a coast-to-coast tour with sold-out crowds and rave reviews.