Flaw - Historic Clarksburg WV Cemetery Preservation Alliance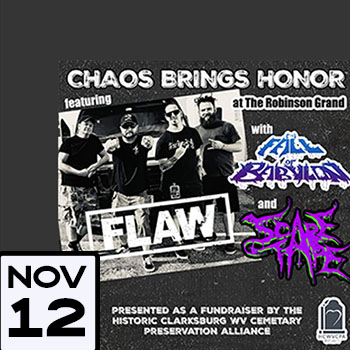 Tickets for Chaos Brings Horror can be purchased online or by calling:
The Robinson Grand Ticketing Center at (855)-773-6283.


Tier 1 Ticket - $25.00
Tier 2 Ticket - $15.00

All ticket purchases are final.

Refunds will only be issued if the event is canceled or rescheduled.

To seek a refund for any ticket purchase you must purchase
Ticketing Insurance that is offered at the point of sale.

If purchasing tickets by phone, please request Ticketing Insurance.





Also Performing are:





Historic Clarksburg WV Cemetery Preservation Alliance Presents: CHAOS BRINGS HONOR
FLAW

is a band that is re-emerging on the strength of renewed focus and energy, and that energy is captured on the lead single from "Divided We Fall", a song called "Live and Breathe" that is a vessel of raw human experience and emotion. Just days before the release of FLAW's most recent album VOL IV: Because Of The Brave, FLAW filmed on the Stephen Colbert Show in NYC, in a skit video supporting their first single "Conquer This Climb." FLAW can accomplish great things, and their fans are poised and ready to answer the call. In 2019 alone, FLAW was on tour for a majority of the year, all over the United States, to include performances at Metal In the Mountains, Blue Ridge Rock Festival, and headlined Vet-Traxx Festival 2019.
The band has seen multiple line-up changes over the years, however the core of Chris Volz's vocals has remained as the creative driving force and is poised to re-emerge on the strength of their finest set of recordings to date. The band has signed a deal with Pavement Entertainment, and they released Divided We Fall on August 19, 2016. FLAW's most recent heavy hitting album, Vol IV: Because Of The Brave, was released July 19, 2019.
FLAW's story began with the independent release of home-grown albums American Arrogance (1996), Flaw (1998) and Drama (2000). It was the songs on these recordings that garnered the attention of Universal Republic Records, who signed the band and released the break-through album Through The Eyes in 2001. The offering topped the Billboard "Heatseekers" chart, largely fueled by the singles "Payback" and "Whole." The band then followed-up with an album entitled Endangered Species via Republic in 2004, but soon thereafter the band went through personnel changes and ended their relationship with the label. Volz stayed creative, releasing a critically acclaimed solo record, and also touring aggressively with the band Five.Bolt.Main. The band's tumultuous relationship with themselves, and their label, were reflected in their songs. It was the life and energy captured in these songs that propelled the band forward. It was always FLAW fans' connection to their songs that carried the band on. "We would not be where we are today without our hardcore fans," says Volz. "The Flaw Family is the backbone of everything we do, and we cannot wait to get out and tour in support of this new record".
Pittsburgh, Pennsylvania's

FALL OF BABYLON

, is a death metal band officially formed in 2020. With Influences such as Dying Fetus, Cattle Decapitation, and Gojira, FALL OF BABYLON strives to be the next generation of heavy, fast, and aggressive music.
Soon after the formation of the band, FALL OF BABYLON began writing and recording their debut album, War on the Existent.
FALL OF BABYLON will release their debut single 'Reduced to Ash' on September 9th, 2022. This is the first single off the bands full length 8 track album, War on the Existent, which will release late 2022
Within just a couple of months, FALL OF BABYLON went from playing their first show ever, to sharing the stage with acts such as: Party Cannon, Wormhole, Rings of Saturn, Vein.fm, Upon a Burning Body, Vulvodynia, and Signs of the Swarm.
On the eve of January 22nd, West Virginia's gut-churning gore grind band

ScareTape

spawned from beneath the hillside graveyard of Shinnston. Four wretched individuals, Tyler Bunnell (Guitar), Ethan Shaver (Drums), Jacob Hamrick (Bass, Vocals), and Zorian Miner (Vocals), convened in preparation for the release of their first collections of decomposition with Conform to Rot (2021). Each time the harrowing group gathers with their conjurers, it is of instinct to bring unrestricted horror by their ritual.
Chaos Brings Honor

is a concert to raise funds for the Historic Clarksburg WV Cemetery Preservation Alliance to continue our mission to restore respect, dignity and honor to distressed cemeteries. Distressed cemetery means any land or structure used or intended to be used for the interment/entombment of human remains including facilities used for the final disposition of cremated remains whereby the owner lacks sufficient financial resources for the maintenance or preservation of said cemetery. Distressed cemeteries often fallen into disrepair, becoming abandoned as the originating organization which founded the cemetery runs out of funds and the ability to continue the guarantee of perpetual care that they once promised. The Historic Clarksburg WV Cemetery Preservation Alliance got its start as a community based group of volunteers that came together to provide care for the Former IOOF Cemetery on S Chestnut St in Clarksburg during the late summer of 2011. Since 2011 HCWVCPA has grown and now owns 3 cemeteries in Harrison County WV and has provided support services to several others.
With this event we hope to bring awareness, raise funds and show that cemetery preservation isn't held to anyone specific demographic but is an issue and concern crossing all genres, lifestyles, cultures and socioeconomic classes in other words it's an issue we all should be concerned with.