Chonda Pierce- LIVE in Concert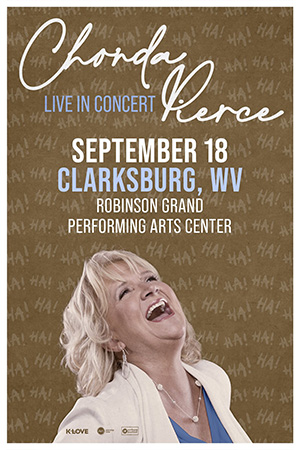 Tickets for Chonda Pierce can be purchased online or by calling
The Robinson Grand Ticketing Center at (855)-773-6283.


VIP Ticket - $65.00 includes Question & Answer 5:15 PM


Must arrive by 5:15. Late arrivals will forfeit early entry




seating and Q&A. No refunds.




Tier 2 Ticket - $46.00
Tier 3 Ticket - $39.00

Groups of 10 save $3 a ticket.




Join the multi-talented Chonda Pierce, a stand-up comedian, television hostess, author and now actress, as she channels her life experiences into positivity, bringing laughter to audiences around the country. This is an evening you won't want to miss. Get your tickets to see the Queen of Clean comedy LIVE IN CONCERT today!

Emmy® -nominated and best-selling comedian Chonda Pierce or "the country comic" as Billboard Magazine dubbed her, has been making audiences laugh for more than two decades with her winning combination of fierce wit and southern charm. Pierce is fresh off an incredible year after debuting her movie "Chonda Pierce: Laughing In The Dark," to rave reviews from audiences and critics alike. The limited engagement documentary-style film was so well received that it was brought back for a very special encore performance and in total was viewed by nearly 100,000 people over the course of just two nights.

Pierce got her start working at Opryland Theme Park in Nashville where she performed as "Grand Ole Opry" star Minnie Pearl. Pierce recalls being a terrible dancer and being told by her boss to "find a new talent." In order to keep her job, she memorized three pages of jokes from Grinders Switch, TN and went on to impersonate Minnie Pearl for six years. While Pierce enjoyed singing and dancing, it was at this time that she truly fell in love with her craft. After deciding to pursue comedy fulltime, she recorded "Second Row, Piano Side," a collection drawing material from her childhood growing up as the daughter of a preacher in South Carolina. Pierce's material resonated with people from all walks of life, and she credits her southern upbringing both for her warped sense of humor and her solid roots.
<