A Community Christmas Concert with the Brass Rhythm and Sax Orchestra and The Shinnston Community Band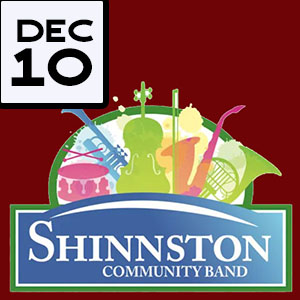 Tickets for The Shinnston Community Band Christmas Show are $7.
Robinson Grand ticketing center at (855)-773-6283.

All ticket purchases are final.

Refunds will only be issued if the event is canceled or rescheduled.

To seek a refund for any ticket purchase you must purchase
Ticketing Insurance that is offered at the point of sale.

If purchasing tickets by phone, please request Ticketing Insurance.
The Shinnston Community Band is a 70+ member musical organization dedicated to furthering the appreciation of the arts in Shinnston and in the north-central West Virginia area by performing a wide variety of music for community events and area festivals throughout the year.
Shinnston Community Band, Inc. is a West Virginia non-profit corporation; it is tax exempt under Section 501(c)3 of the Internal Revenue Code. The band has expenses for sheet music, instruments, sound/lighting, and equipment. Grants are provided by the Cultural Foundation of Harrison County; however, the band also relies on donations from local businesses and individuals. Donations are always welcome! SCB is a member of the Association of Concert Bands and holds a blanket performance licensing agreement with ASCAP/BMI.
Outside of education-sponsored organizations such as high school and college music departments, the Shinnston Community Band is the only musical organization of its kind in north-central West Virginia in size and accomplishment. In addition to providing outstanding musical performances in the area, the community band provides both amateur and professional musicians of all ages, and surrounding counties, a chance to use and enhance their musical skills by rehearsing and performing in the band.
Membership in the Shinnston Community Band is open to anyone who can play a musical instrument. Although the band was primarily organized for the community of Shinnston, many of our members are from neighboring counties and states. Members range in age from 18-83. Whole families in the community are members of the band, as well as mother-daughter, father-son, and brother-sister relationships from all over the area. Audiences are of all ages and backgrounds, and regularly number in the thousands.

https://shinnstonband.com/music