Grand Winter Beach Bash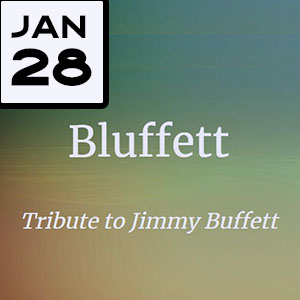 Tickets for Bluffett can be purchased online or by calling:
The Robinson Grand Ticketing Center at (855)-773-6283.



VIP: $60.00

VIP gets you 5 PM access for Cheeseburger dinner before the show!

Tier 1: $40.00


Tier 2: $30.00


Tier 3: $20.00



All ticket purchases are final.

Refunds will only be issued if the event is canceled or rescheduled.

To seek a refund for any ticket purchase you must purchase
Ticketing Insurance that is offered at the point of sale with online purchase only.


Join us for a Grand Winter Beach Bash! Get your VIP Tickets and meet us at the Grand Margaritaville Room for a 5pm Cheeseburger in Paradise Party with the Bluffits coming up!
BLUFFETT featuring The Son Of A Sailor Band is a 100%-live-on-stage Tribute to the legendary Jimmy Buffett & The Coral Reefer Band! This show will have the conga-lines moving with an amazing EIGHT PERFORMERS ON STAGE! Complete with beach-type props and costuming, you will believe this IS the real deal!! The amazing look and vocals of Larry Pearson will have you convinced you have been transported to "Margaritaville"!

HEAR ALL YOUR FAVORITE HITS LIKE:
"Volcano" "Son Of A Sailor" "Margaritavile" "Cheeseburger In Paradise" "Come Monday" "Pencil Thin Moustache" - "Sea Cruise" "Havana Dreaming"

"Boat Drinks" "He Went To Paris" "Captain And The Kid" "Changes In Latitude, Changes In Attitude" "A Pirate Looks At 40" "Fins" and Many more!

*Dead-On-The-Money Vocals! *Authentic Costuming! *Amazing Looks! *Incredible Re-Creation! *Hear All Your Favorite Hits! *Completely Live-On-Stage! *Full Band! *Eight On Stage! *Great Choreography! *Audience Participation!

A great fun, all-ages, crowd-pleasing show with the key word being "FUN"! Having performed for many Theatres, Fairs, Festivals, Casinos, Corporate Events and Special Events Worldwide, this Affordable, High-Energy Show knows how to please an audience!!