Michael Palascak Stand Up Comedy Show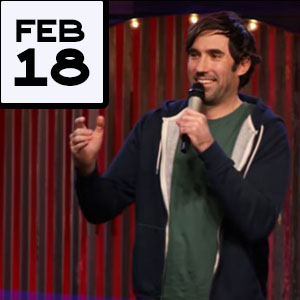 SHOWTIME 7:00 PM

Our Box Office, Lobby, and Concession Stands will open one hour before the show, the earlier you arrive the earlier we can seat you and serve you at concessions

Tickets for Michael Palascak can be purchased online or by calling:
The Robinson Grand Ticketing Center at (855)-773-6283.

Tier 1 Ticket - $25.00
Tier 2 Ticket - $19.00
Tier 3 Ticket - $13.00

All ticket purchases are final.

Refunds will only be issued if the event is canceled or rescheduled.

To seek a refund for any ticket purchase you must purchase
Ticketing Insurance that is offered at the point of sale with online purchase only.


Michael Palascak is a comedian who grew up in Indiana and now lives in LA. He performed on both The Late Late Show with James Corden and The Late Show with Stephen Colbert in the same year. He has over 1 million views on YouTube. In addition, his resume includes A Little Late with Lilly Singh, The Tonight Show, Letterman, Craig Ferguson, Conan, has a Comedy Central Half Hour special, and was a Top 5 Finalist on Last Comic Standing where one judge claimed, "My first impression of Michael was a great likability. This is a guy that could star in a sitcom." Michael's likability allows him to relate to his audiences in a real way which sets up the huge laughs he gets from his sharp, personal material. Consistently writing and performing, this summer Michael released both a new album— The Internet Live through 800 Pound Gorilla and a new stand-up special on the Dry Bar app— 1984. Available for free streaming. Drew Hunt of The Chicago Reader wrote about Michael, "In a lot of ways, he represents the ideal antidote to the sort of unbridled cynicism that pervades much of contemporary stand-up." Michael's optimism continues in the new National Lampoon series — The Bright Side where he takes a positive stance on a negative topic streaming on YouTube. www.michaelpalascak.com
Most recently, Michael Palascak was named the 2018 Stand-up of the Year by the Late Nite Last Week podcast for his performance on The Late Late Show with James Corden. He's also done stand-up on The Late Show with Stephen Colbert, CONAN, The Tonight Show with Jay Leno, Letterman, Comedy Central's HALF HOUR, was a top 5 Finalist on LAST COMIC STANDING, and this past summer he performed at Montreal's Just For Laughs Comedy Festival where he taped a set for Kevin Hart's LOL network. Norm Macdonald said Michael reminds him, "...of a guy that's just as funny offstage as on, which is like magic." Michael's short film You're Alive was accepted into numerous festivals including the Hollywood Comedy Shorts Festival and was the winner of the Audience Award at the Chicago Comedy Film Festival.