MUSICAL: On Your Feet!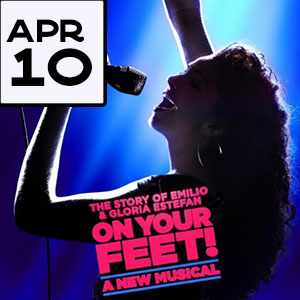 SHOWTIME 8:00

Our Box Office, Lobby, and Concession Stands will open one hour before the show, the earlier you arrive the earlier we can seat you and serve you at concessions.

Tickets for On Your Feet! can be purchased online or by calling
The Robinson Grand Ticketing Center at (855)-773-6283.


Tier 1 Tickets - $95
Tier 2 Tickets - $75
Tier 3 Tickets - $55

Doors open at 7:15 PM
Performance at 8:00 PM

All ticket purchases are final.

Refunds will only be issued if the event is canceled or rescheduled.

To seek a refund for any ticket purchase you must purchase
Ticketing Insurance that is offered at the point of sale with online purchase only.

Brought to you by:
The Cultural Foundation of Harrison County
&
Barbara B. Highland Fund for the Arts

HER VOICE. HIS VISION.
THEIR STORY.
ON YOUR FEET! is the inspiring true story about heart, heritage and two people who believed in their talent—and each other—to become an international sensation: Gloria and Emilio Estefan.
Now their story has arrived on stage in an exhilarating original production that's already won the hearts of critics and audiences alike, with the Chicago Tribune declaring "IT'S A HIT!" and The New York Times cheering, "The very air in the room seems to vibrate in this undeniably crowd-pleasing musical!" "If you aren't humming a Gloria Estefan hit when you leave the theater, it might be time to check your pulse!" raves the Associated Press.

Directed by two-time Tony Award® winner Jerry Mitchell (Kinky Boots), with choreography by Olivier Award winner Sergio Trujillo (Jersey Boys) and a book by Academy Award® winner Alexander Dinelaris (Birdman), ON YOUR FEET! features some of the most iconic songs of the past quarter-century, including "Rhythm is Gonna Get You," "Conga," "Get On Your Feet," "Don't Want To Lose You Now," "1-2-3" and "Coming Out of the Dark." Prepare to be on your feet from start to finish!
To find out more, go to:
https://onyourfeetmusical.com/about-the-show/