Gianni Russo ~ An Evening You Can't Refuse!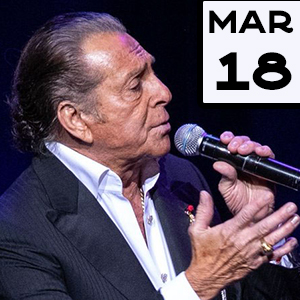 SHOWTIME 7:00 PM

Our Box Office, Lobby, and Concession Stands will open one hour before the show, the earlier you arrive the earlier we can seat you and serve you at concessions

Tickets for Gianni Russo can be purchased online or by calling:
The Robinson Grand Ticketing Center at (855)-773-6283.

VIP ticket holders receive premium seating plus an invitation to an after party in our Grand ballroom for some nosh, the music of AMICI, and a chance to enjoy a complimentary glass of Gianni Russo Wines with Gianni Russo.


VIP - $75.00

Tier 1 Ticket - $60.00


Tier 2 Ticket - $45.00


Tier 3 Ticket - $30.00

All ticket purchases are final.

Refunds will only be issued if the event is canceled or rescheduled.

To seek a refund for any ticket purchase you must purchase
Ticketing Insurance that is offered at the point of sale.
with online purchase only.



You know Gianni Russo from his iconic role in The Godfather, and numerous other starring roles in film and television. Join us as Gianni Russo inspires audiences with the legendary journey of his music, storytelling of his life and acting career.
Russo believes it's his crooning that separates him from the mob of other on-screen wise guys. His debut CD Reflections
paid homage to such legendary singers as Dean Martin and Frank Sinatra. These icons inspired him both personally and professionally. The CD, which is available on iTunes and Amazon.com contains a bonus track where Russo reminisces about the behind-the-scenes drama that took place during the filming of "The Godfather". Russo travels the country with his orchestra to sold out appearances performing the music that has influenced his Life. His follow up CD was released in June 2010, and his self-titled wine label Gianni Russo Wines launched nationally in 2009.
Born in Manhattan and raised in Little Italy and Staten Island, Russo overcame polio as a child to start his first "business" at the tender age of twelve, selling pens and erasers on the street corners. At eighteen Russo made his first trip to Miami, where he began to dabble in show-business, working in nightclubs and hotspots before deciding to pursue acting and move to Hollywood.
Russo's colorful life is currently being adapted into a feature film by producer Brett Ratner (Rush Hour, Horrible Bosses, Red Dragon, and is currently filming the sequel to King Kong). Screenplay was written by George Gallo of "Midnight Run" fame, "Bad Boys" and "Middle Men", and to be directed by Barry Levinson of "Diner" & "Taxi" fame. Available now is disk 1 of "The Godfather Stories By: Carlo Rizzi a.k.a. Gianni Russo", with 9 more volumes coming soon!