Colton Dixon Build a Boat Tour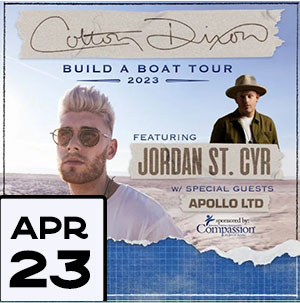 Tickets for Build A Boat Tour can be purchased online or by calling:
The Robinson Grand Ticketing Center at (855)-773-6283.

Premium tickets get you the best seats, early access for Q & A.

Doors for VIP Open at 5:25
Q & A Starts at 5:35 PM

Premium Ticket - $50.00
Tier 1 Ticket - $37.00
Tier 2 Ticket - $25.00

Tier 3 Ticket - $12.00

Our Box Office, Lobby, and Concession Stands will open one hour before the show, the earlier you arrive the earlier we can seat you and serve you at concessions

All ticket purchases are final.

Refunds will only be issued if the event is canceled or rescheduled.

To seek a refund for any ticket purchase you must purchase
Ticketing Insurance that is offered at the point of sale with online purchase only.


Colton Dixon quickly became a household name in 2012 when he was voted a fan favorite and made it to the top seven on Season 11 of Fox's hit show AMERICAN IDOL. His career has been on the fast track ever since, now boasting over 100 million streams across all platforms. Dixon's 2013 debut, A Messenger, set the record for biggest first-week sales by a new solo Christian act, becoming the No. 1 selling album by a new Christian artist.
Dixon is also a Steinway & Sons artist, following in the footsteps of legendary artists such as Harry Connick, Jr. and Billy Joel. Dixon's sophomore effort Anchor included the most played Hot AC single of 2014, "More Of You," which spent three weeks at No. 1, as well as "Through All of It," his fourth consecutive No. 1 at Hot AC Radio. In 2013, Dixon won a Dove Award for Best Rock/Contemporary Album Of The Year, along with two additional nominations. In 2015, Anchor was honored with the Dove Award for Rock/Contemporary Album of the Year. Dixon received back-to-back K-LOVE Fan Award nominations for Male Artist of the Year in 2014 and 2015, followed by the release of his third studio album Identity, which included the top 5 single "All That Matters," whose video was premiered by PEOPLE magazine. His latest, critically-acclaimed, self-titled EP, boasting the hit tracks "Miracles", "Devil Is A Liar," and "Made to Fly" is available now, along with his latest single, "Build a Boat."

The Build A Boat Tour features Colton Dixon, Jordan St. Cyr and Apollo LTD.