Warriors Rock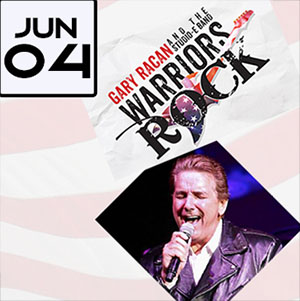 Tickets for Warriors Rock can be purchased online or by calling:
The Robinson Grand Ticketing Center at (855)-773-6283.
Order Premium Tickets for front of house seats.

Premium Ticket - $45.00
General Admission - $25.00
All ticket purchases are final.
Refunds will only be issued if the event is canceled or rescheduled.
To seek a refund for any ticket purchase you must purchase
Ticketing Insurance that is offered at the point of sale with online purchase only.
His song being sung at the show!
Warriors Rock is a spectacular musical tribute concert that spans decades of music and stars local Veterans from north central West Virginia. Plus, 100% of ticket proceeds will be given to a Veterans organization(s) in the area!

At the show you will meet men and women who served our country in various branches at various times. Our local veterans will share with you their memories and songs that reminded them of home while they deployed. Then Gary Racan and his fabulous Studio-E band will take the request and enertain the audience with a playlist created by veterans!!
with Special Guest Darryl Worley and Bobby Nicholas