🎞️Movie: Native's Fly Fishing Film Tour 2023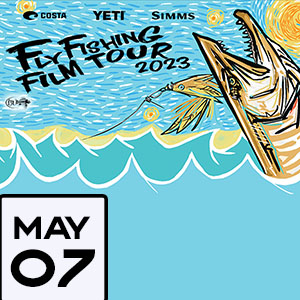 SHOWTIME 4:00 PM


Tickets for Fly Fishing Tour 2023 can be purchased online or by calling
The Robinson Grand Ticketing Center at (855)-773-6283.

Purchase your tickets in advance to take advantage of discounted price!


Online or Ticketing Call Center $10.00
Box Office Day of Show - $15.00

Our Box Office, Lobby, and Concession Stands will open one hour before the show, the earlier you arrive the earlier we can seat you and serve you at concessions.


All ticket purchases are final.
Refunds will only be issued if the event is canceled or rescheduled.
To seek a refund for any ticket purchase you must purchase
Ticketing Insurance that is offered at the point of sale with online purchase only.
The 17th annual FLY FISHING FILM TOUR (F3T) presented by Costa, YETI and Simms is coming to the Robinson Grand with a top notch selection of short films that are sure to get you fired up for the season ahead.
The F3T is the original and largest fly fishing film event of its kind. Come for the action and stay for the giveaways and camaraderie that will feed your fishing addiction.
The 2023 show will feature locations from Cuba to Patagonia, Mexico to Australia, Alaska, Wyoming, the Deep South, Massachusetts and beyond. Experience the achievement of a permit slam, follow the journey of one boy from Mexico to the waters of Wyoming, explore the best international waters and compete for the legendary belt buckle. Join us for a journey of adventure, friendship and the best fly fishing action.
F3T 2023 Stoke Reel from The Fly Fishing Film Tour on Vimeo.