Zach Williams ~ A Hundred Highways Tour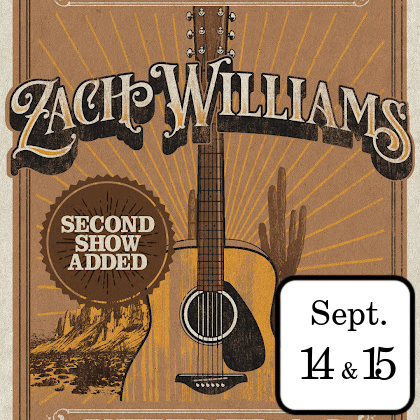 Tickets for Zach Williams can be purchased online or by calling:
The Robinson Grand Ticketing Center at (855)-773-6283.

There will be NO alcohol served at this event.

All remaining tickets for Thursday. September. 14:
Floor Seats - $38.75
Balcony Seats - $28.75

Friday, September 15, 2023 - SOLD OUT

Groups of 10 or more can purchased tickets at a 10% Discount
by calling (855)-773-6283.
All ticket purchases are final.
Refunds will only be issued if the event is canceled or rescheduled.
To seek a refund for any ticket purchase, you must purchase
Ticketing Insurance that is offered at the online point of sale.
Get ready for two nights of unforgettable music and soul-stirring performances as Zach Williams takes the stage for an Acoustic Evening of Stories & Songs on the Hundred Highways Tour!

The Friday, September 15 show has SOLD OUT. All remaining tickets for Thursday, September 14 are now offered at a MAJOR DISCOUNT.

Zach Williams will blow you away with his powerful vocals, raw talent, and chart-topping hits. From "Chain Breaker" to "Rescue Story," his music speaks to the heart of what it means to be human, and this acoustic performance is an opportunity to hear Zach's music in a way that feels personal and intimate. You're invited on a journey through his stories and songs, crafting a night that will leave you feeling inspired.
Whether you're a longtime fan or a newcomer to the genre, this is a show you won't want to miss. So come join us for an unforgettable night of music, worship, and community. Get your tickets now and experience the magic of A Hundred Highways with Zach Williams!