Gary Puckett and The Union Gap with The Vogues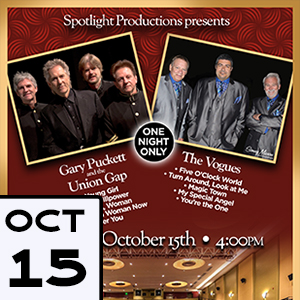 Tickets for Gary Puckett and The Union Gap Band/The Vogues
can be purchased online or by calling:

The Robinson Grand Ticketing Center at (855)-773-6283.

Premium - $76.00
Tier 1 Ticket - $66.00
Tier 2 Ticket - $56.00
Tier 3 Ticket - $46.00

All ticket purchases are final.

Refunds will only be issued if the event is canceled or rescheduled.

To seek a refund for any ticket purchase you must purchase
Ticketing Insurance that is offered at the point of sale.

Beginning with "Woman, Woman" in 1967, Gary Puckett and The Union Gap's first five releases went gold, and he went on to sell more records in 1968 than any other recording artist (including The Beatles) on the strength of "Young Girl," "This Girl's A Woman Now," "Lady Willpower," and "Over You."

Puckett has toured the world, performed at the White House and for Royalty, and appeared on more than 50 television shows and specials.
From the mid 1960's into the 70's The Vogues could be heard coast to coast. They have been featured on the top television shows of the time including The Ed Sullivan Show, The Tonight Show with Johnny Carson, Mike Douglas Show and Dick Clark's iconic American Bandstand, just to name a few.

The Vogues captured the heart of the teens of the 60's with their lush harmonies on hits such as "You're The One", "Five O'Clock World", "My Special Angel", "Turn Around and Look At Me, "Till," and "Magic Town."