Bobby Nicholas Soul Christmas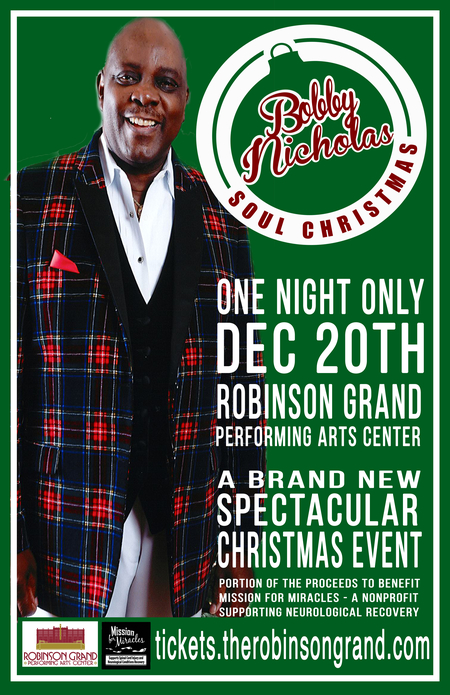 Bobby Nicholas has been performing for audiences for more than 50 years. Soul Christmas is a new show that will bring Christmas songs and carols, to new life with a twist of R&B and Motown. With an all-star band of performers, the show will have you tapping your toes, singing along, and dancing in the aisle!
Bobby has been entertaining since he was 18 years old. He began singing with the choir of a local Methodist Church as a young child when one day the lead soloist could not perform, and the choir director suggested Bobby as a fill in. He was nine years old at the time. He continued to sing with the choir until, as a young adult, his desire to expand his singing career took him away from his local community. Since beginning his professional career as a vocalist, Bobby has performed in various night clubs and convention halls across the United States and overseas.
Bobby's style provides a range of music which appeals to all age groups and musical preferences. He routinely provides an array of vocal sensations with songs from long-running Broadway plays including: The Phantom of the Opera, Les Miserables, and Cats. This range is matched with a wide selection of contemporary, country, standards, rhythm & blues as well as jazz. His unique style has been compared to other renowned artists such as The Late Great Nat King Cole, Johnny Mathis and the Late Frank Sinatra.
Among Bobby's accomplishments have been opening for such acts as: Ray Charles, Nancy Wilson, The Mandrell Sisters, Janie Fricki, Sawyer Brown, The Temptations, and Sammie Smith. He has also performed with other well known artists such as: Kenny Rogers, Madonna and comedian Tim Conway as well as appeared on national TV with the Charlie Daniels Show. Bobby has also showcased in Las Vegas. Bobby's most memorable accomplishmnet was performing at the National Victory Celebration in Washington, D.C. by invitation from the President of the United States of America. Bobby entertained the returning troops from Desert Storm with a song he wrote entitled, "Thank You."


PRESENTED BY: