Jazz Nutcracker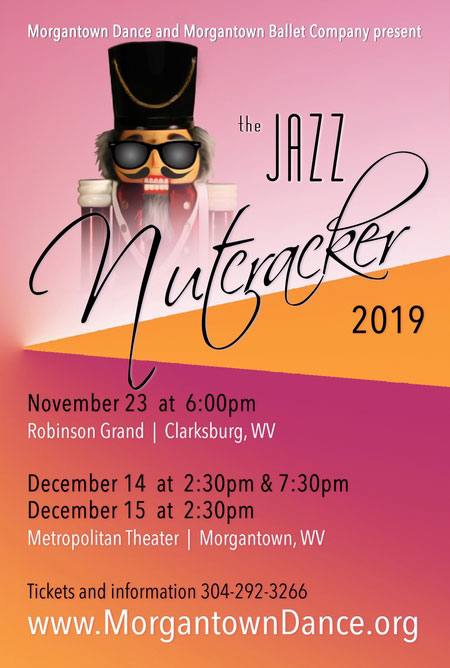 This two-act production is under the artistic direction of our Director of Community Productions, Desiree Witt with choreography by Desiree Witt, Gretchen Hurd, Ashley Manzo, Mollie Mock Kaufman and Craig Kaufman. Incorporating the jazz rhythms and syncopations of Duke Ellington's rendition of Tchaikovsky's Nutcracker score with jazz band instrumentation, this year's Nutcracker hopes to surprise everyone. Combining jazz, tap, modern, contemporary ballet, and even hip-hop with non-traditional costumes and music of Ellington, Glenn Miller, and Tex Beneke will leave audiences with toes tapping and fingers snapping.
The 70-person cast of The Jazz Nutcracker will spread its holiday magic to the Robinson Grand Performing Arts Center on November 23, 2019 at 6:00 pm.
Kick off the holidays with the whole family! Join Morgantown Dance as they perform a whimsical version of the classic holiday story – The Nutcracker. Journey with Clara to a land of enchantment filled with swirling snowflakes, dancing gingerbread cookies, toys that come to life, and a special appearance by Santa and his elves.
The show is approximately 2 hours long with a 15 minute intermission.
Tickets:
$20 for adults
$15 for Students (13-up) & Seniors(65 & up)
$10 Children (ages 6-12)
$5 Preschooler (ages 5 & under)
Tickets may be purchased online by visiting www.morgantowndance.org, at the studio, or at the door the day of the production. Group rates are available for organized groups of 10 or more.
For further information visit the MDS website or call 304-292-3266.