Ronnie Milsap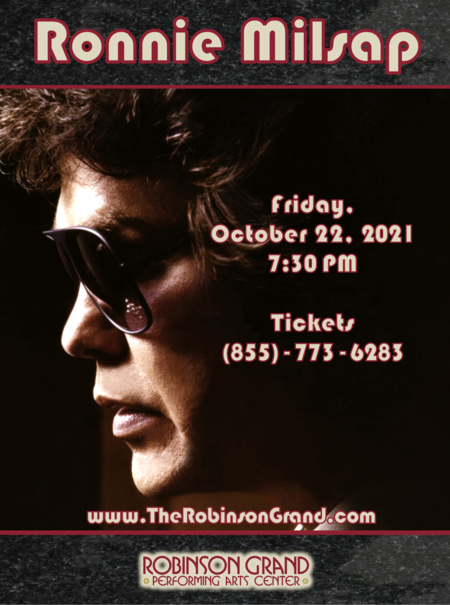 RONNIE MILSAP

Born blind, Ronnie Milsap's grandparents gave him over to the North Carolina State School for the Blind hoping for a better chance. There, Milsap discovered music – deviating from the school's classical curriculum to explore the nascent realms of race music, rock & roll and jazz. Being the brilliant kid he was, it wasn't long until he'd found his way into the local clubs and the tiny indie labels.
Suddenly, he was sharing bills with Ray Charles and James Brown on a circuit that included the Howard Theater, the Royal Peacock, and more. It was Ray Charles who told the young pianist when he was offered a scholarship to Young Harris College's law program, "Son, I can hear the music inside you..."
It settled Milsap's fate. After working in Atlanta for a time, Ronnie moved to Memphis where he was doing sessions with Chips Moman, where Elvis famously commanded, "More thunder on the keys, Milsap," during the recording of "Kentucky Rain." It was there he was asked to play the Whiskey on the famed Sunset Strip in LA. While staying at the notorious Hyatt House, Charley Pride, a famous man in country music, saw the kid playing rock & soul and suggested giving Nashville a try.
The rest is history. Ronnie began creating a new way of recording (being blind his hyper-attuned hearing led him to create/build what is now known as Ronnie's Place, where the new album, the Duets, was captured), he broke genre rules and became one of the biggest pop, American country, and even R&B artists of the late '70s and early '80s. He even scored the first country video played on MTV (the ironic "She Loves My Car").
The Robinson Grand Performing Arts Center and Big Time Entertainment, LLC join together once again to bring out a music legend—Ronnie Milsap. With six Grammys, forty #1 hits, five decades of charted hits, and epic titles such as CMA Entertainer of the Year and four Album of the Year Awards, audiences are in for a once-in-a-lifetime treat!
THREE PRICING TIERS:
Tier 3: $48.50
Tier 2: $63.50
Tier 1: $78.50

Doors open at 6:30pm with concessions, beer, and wine available on site.



MASKS ARE REQUIRED BY ALL PATRONS UNLESS ACTIVELY EATING OR DRINKING DUE TO CURRENT HEALTH & SAFETY REGULATIONS. MASKS ARE TO BE WORN BETWEEN BITES AND SIPS. THANK YOU.



Do you need hotel accommodations?
Less than 10 minutes away and for a discounted price,
The Hilton Garden Inn of Clarksburg would love to host you!

Group Name: RONNIE MILSAP
Group Code: MILSAP
Check-in: 21-OCT-2021
Check-out: 23-OCT-2021
Hotel Name: Hilton Garden Inn Clarksburg
Hotel Address: 606 Emily Drive,
Clarksburg, West Virginia 26301
Phone Number: 304-326-9200

Your web page address is: https://hiltongardeninn.hilton.com/en/gi/groups/personalized/C/CKBGIGI-MILSAP-20211021/index.jhtml?WT.mc_id=POG